Tech Stack
Collect, the vault for digital gardeners
By Nick Hunderson
Our browser bookmarks haven't been of much use for a long time. Instead, try saving links in an application that will convert them into a mood board.
I like collecting useful and interesting apps. I used to collect them in my browser's bookmarks, then I started a separate board in Trello, creating a card for every link. But each method had its shortcomings: with the browser, I inevitably lose perfectly good apps forever since I'm unlikely to ever return to these bookmarks, and the Trello board doesn't go well with my archive, since links are collected in absurdly long columns. It might also be worth creating an archive of bookmarks in Notion according to these suggestions on Medium. However, this option will require a lot of effort and care.
You've likely faced similar difficulties. Designer Satabdi Srichandan has done some personal research about bookmarking issues from a UI perspective. The eighty people surveyed said that they preferred to bookmark resources like articles, references, sources of inspiration, or links to programs, rather than the sites that they visit every day. The survey identified two main shortcomings: it's not easy to find the desired link or to effectively sort multi-level folders.
My resources often including things so insignificant that I never bookmark them, like a link to a single image of a PDF file that I had to download to my laptop. This, "title screen Windows 2.03" has been on the desktop for several years. It's inspiring, and since I'm afraid of moving it somewhere, I will inevitably lose it. Jeffrey Huang, a computer engineer from Spatial came up with a precise definition for my collection, it's a "glorified archive."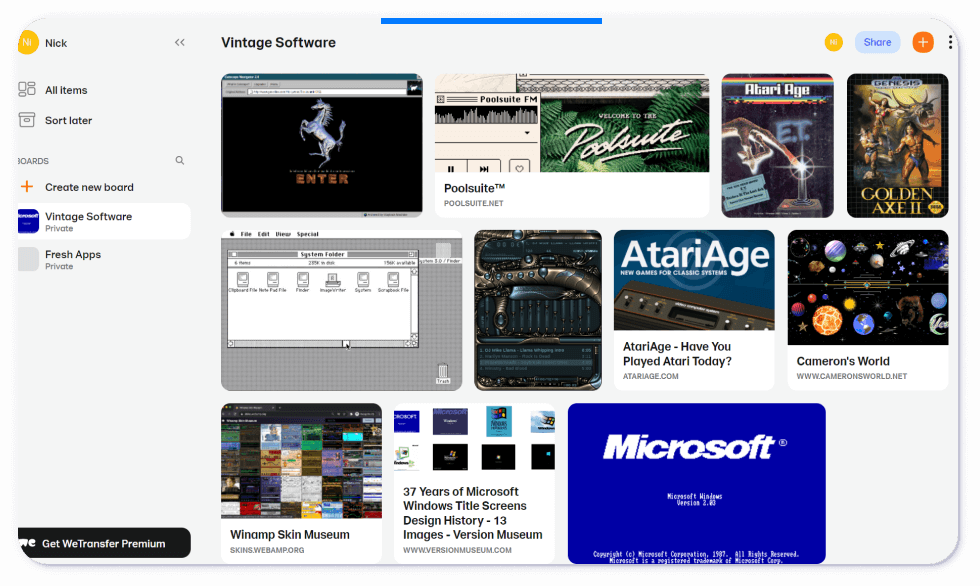 Collect, the bookmark manager launched by the Dutch file sharing service, WeTransfer, solves these problems. Anything can be loaded into it: links to articles, pictures, videos from a laptop, and even installation files with .exe and .dmg extensions. They're all gathered on boards, not in faceless lists. Collect shows pictures and links to websites in the form of small previews. And this is how bookmarks become visual.
You may have heard of other managers like Zulu, Dropmark or Raindrop.io. Each option has its own approach. In some of these, links are sorted by tags, in others, articles are opened in the built-in reader, still in others, both links and files are uploaded. Collect has a simple interface: no complex tagging systems or layered folders, just a few mood boards with pictures. It's similar to Pinterest.
The browser version of Collect is worse than the mobile app. It lacks the bookmark search and text note editor of Google Keep. In addition, the Collect mobile app bookmarks photos from your phone and it scans documents. This is useful if you're collecting on your desktop, not your laptop.
Who will benefit most?
The app is designed for online collectors and creators of digital gardens and their rich archive of links to a wide variety of sites. If you find any unusual media or a little-known web application that you are afraid of losing forever, save it to a separate board on Collect. For designers and illustrators, this is a way to collect references from different sources in one mood board, for when you don't only need pictures, but links to a portfolio or video. Otherwise, this is the simplest bookmarking tool that does not require you to pay attention to sorting and isn't tied to one browser.
Quick tip
To save an image via a direct link, install the Collect extension for Chrome. It won't work without it, you'll have to download the picture and upload it manually.
Why I love it?
Stores everything: photos, links, PDF.
5 free gigabytes is enough for 10,000 pictures.
What made me frown?
You can't move multiple files at once.
You can't add descriptions to links.
Doesn't always retrieve previews.