Make the most of your workday with Sidekick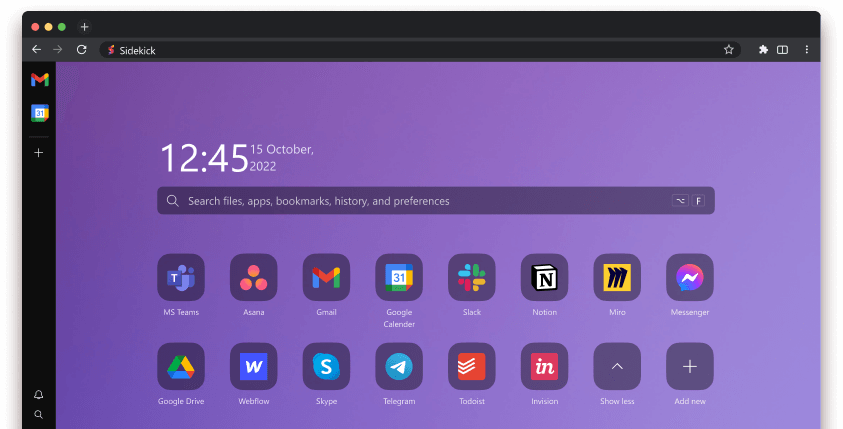 Get even more done with
Sidekick Pro
Pro
$8
Per month billed


annually
All Free features plus:
Multiple workspaces

BETA

Multiple app accounts
Split-View
Password sharing
Custom web apps
Unlimited sessions
Unlimited sidebar apps
Tab sessions
Premium customer support
ProTeam
*
Individual
custom plans
All Pro features plus:
Pre-installed apps
Built-in VPN
Team roles
Shared apps
Unlimited users
TESTIMONIALS
Loved by 70,000+ founders, execs, and PMs from companies like
I think Sidekick is perfect! It's fast and the UI is simple and incredibly customizable. Now the feature that won me over was the fact that it does not take as many resources as chrome does from my pc.
Rodolfo Brunet
web designer / front dev
Now i have an ability to organize everything in one place (all my open tabs into browser groups). Can have 50+ open tabs without crashes. Super!
Dave Lifshits
finance analyst
Still enjoying Sidekick. I now work within the browser as part of my full-time job, and appreciate that you built this on top of Chromium thus ensuring the security of the application, as well as adding more security on top. I love Sidekick!
I've been really enjoying my experience with Sidekick so far and will post some feature requests in the coming days. Sidebar is super-feature, shortcuts are really helping in everyday routine
I am absolutely loving Sidekick! Sidekick lets me keep the sites I use all the time handy without the need to worry about a bunch of open tabs!
Wayne
@ Tiptop Tech Solutions
It's user friendly and very intuitive from my opinion. I've never thought a browser can have that much functionality!
Rachel Jones
Product Manager